Book and Manage Appointments Here ↗️
In-Person (and Online) Sessions Are Available to Book
Body Temple: Offering Integrative Physical Therapy, Yoga, and Sports Rehabilitation
to the East SF Bay since 2005. Incorporated 2012.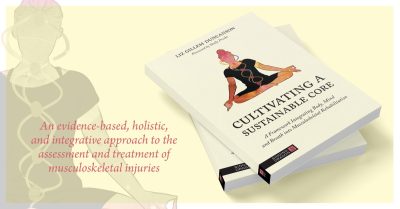 Liz, our physical therapist, also wrote a book!
You can purchase and kindly review it here (#commissionearned)
All Services (Telehealth and In-Person) are available to schedule online.
Body Temple integrates Physical Therapy and Yoga with sports medicine, physical rehabilitation, and yoga therapy to take your fitness to the next level. We provide private, holistic fitness, therapeutic movement, and injury prevention through personalized, slow medicine. Body Temple Physical Therapy guides you individually through your rehabilitation sessions at your unique pace, not your insurance company's algorithm, so you can get back to the physical activities which bring you joy.
What makes us Holistic and Integrative?
Our physical therapist and yoga therapist wears many hats and integrates her observation skills to implement therapy virtually and in-person. While always looking through the licensed health care provider lens, she is also a credentialed yoga therapist, personal trainer, and athletic trainer. We integrate these disciplines, which inherently include teaching holistic health practices to clients.
We teach you how to take care of yourself. We love guiding people through physical therapy and yoga therapy to produce radically healthy changes. We believe that the client knows their own body better than anyone else. We are each on a unique path of self-awareness and discovery; learning how to navigate the connections between body, mind and spirit. If we learn how to tune in to our body's signals, we can direct our own recovery from an injury; whether it is new or old. For many of us, a physical injury is the first step to this body-mind-connection consciousness. We are located in the Temescal Neighborhood, in Oakland, California.
How we do it
Our physical therapist will assess your whole body mechanics and posture, through critical movement analysis. We will teach you exercises to strengthen, relax, and balance the muscles that have been working too hard or not enough. We treat the body as a whole, or holistically, through joint and tissue mobilization, mindful movement, and breathing exercises. This will help you free "stuck" parts so that your entire body will move more efficiently and with fewer symptoms!
We integrate Physical Therapy, Yoga Therapy, Strength and Conditioning, Pilates, Self-AcuPressure and healing modalities, Sports Medicine and Athletic Training philosophies to best retrain your individual movement patterns. Wherever you are in your recovery, we are experts at teaching you to heal and return to your fitness goals.
Your Role
Please come to your sessions with presence and an open heart and mind when you are truly ready to heal yourself. In order to live well, we often need to slow down and learn to listen to our bodies to overcome our physical obstructions to wellness. Holistic physical therapy requires a commitment to mindfully transform our habits, which no longer serve us, into healthy behaviors and movement patterns.
To stay informed of seasonal changes and updates in our Oakland, California practice, please subscribe to our PHYSICAL THERAPY STUDIO NEWSLETTER HERE.
Are you looking for information on our events, publications, or workshops? Please check out our EXPANDED ONLINE SITE HERE.