Body Temple Physical Therapy is an integrative physical therapy practice providing wellness through concierge, slow medicine. We are a cash pay, private practice model, working outside of the traditional insurance-based health care system in Oakland, California. Our vision is to help clients regain their trust in their body's innate ability to self heal. We value whole body health, including the mental and spiritual, and understand that the layers are interconnected and cannot be separated from our physical health. Our mission is to combine traditional physical therapy modalities with complementary and alternative modalities (CAM) such as yoga as a tool to realize whole body health.
Body Temple PT's owner and operator, Liz Gillem Duncanson PT MPT ATC CSCS PYT E-RYT C-IAYT graduated from Fresno State with a Bachelor's degree in Kinesiology, with an emphasis in Sports Medicine/Athletic Training, and a minor in Music Performance (Percussion). Liz graduated college and became a certified athletic trainer in 1998.
She went on to get her Master's Degree in Physical Therapy from Western University of Health Sciences in Pomona, California (formerly known as COMP) an Osteopathic Medical School. The school's humanism mission lives in Body Temple's deliver of healthcare. Liz graduated physical therapy school, became a certified strength and conditioning coach and a licensed physical therapist in the State of California in 2002.
After a few years working in the traditional, out-patient orthopedic setting, Liz ventured out on her own. She started making house calls as a personal trainer and wound up purchasing a massage table to save her own spine because she often ended up performing manual treatment on the floor. Now, clients come to the Body Temple, where Liz is able to meet clients' needs outside the traditional realm of healthcare delivery. She serves in a wellness model and treats the whole person and body instead of just one body part at a time.
Outside of the Body Temple, Liz enjoys hiking, road cycling, and regularly practices yoga. Her interests also include percussion/drumming, camping, green living, and healing our selves and the planet through higher consciousness and non-violence.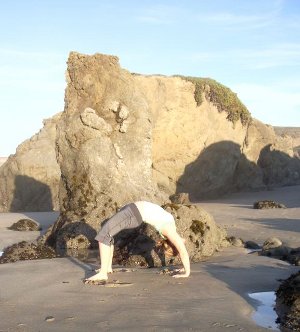 Incorporating alternative and complementary modalities, such as yoga and traditional Chinese medicine (acupuncture and acupressure), into her own lifestyle, taught Liz how to heal her own body from several traumas and accidents she acquired along her journey. These self-healing practices greatly inform Liz's perspective on chronic pain and healing. To heal the physical body, we must also address the obstructions and patterns we create to prevent us from reaching our goals. Liz offers a unique combination of yoga therapy (defined by the IAYT as " the process of empowering individuals to progress toward improved health and well-being through the application of the teachings and practices of Yoga) and physical therapy with sports medicine. She belongs to a group of like-minded healthcare professionals, or Bridgebuilders, who are "devoted to delivering holistic healthcare". The integration of her multiple disciplines fills her tool box to teach others how they might help themselves manage their musculoskeletal health.
Read more about Liz's Ongoing Continuing Education to see what other latest research is informing her current, evidence-based offerings.
Schedule Telehealth Appointment
Working behind the scenes at Body Temple PT is Dan Duncanson, Liz's husband since 2010. When Dan isn't caring for their young son, Dan is fulfilling the roles of Office Manager, IT Guy, Handyman, Janitor, Barista, and Chef. Before working for Body Temple PT, Dan was a professional brewer for ten years, a passion he continues to enjoy while home-brewing in the backyard on the weekends.