Updated Testimonials and Telehealth Physical Therapy Reviews

As of March 17, 2020:
Body Temple has transferred all services to Telehealth Sessions. 
Testimonial response
 to the COVID-19 / Corona Virus Bay Area Orders to Shelter in Place is better than expected!
Here is how clients are responding:
"I was really skeptical about teleconference for my Liz meeting, but decided to give it a try. It worked so well. My problems are complicated and Liz figured out the current one. In fact, the current one is probably long standing, so maybe this was better than in person!" -CP

"I wasn't sure what a remote physical therapy session would be like, but it was incredibly helpful! Liz helped diagnose what was going on with my body, helped me find tools that I already had in my house to work out the muscles and showed me what to do, and worked with me to identify new stretch and strength exercises. I had been feeling anxious about how my body would fare for months without going in-person to physical therapy and going to the chiropractor, and I feel much better equipped and confident after my session. I definitely recommend doing virtual sessions with Liz and continuing to take care of your body during this period!" -JS

"I found Liz's online session very helpful. It has given me some concrete things to be working on at home, during this difficult time.  And has given me an attitude boost.  Thank you Liz for your knowledge and observations and the direct, but gentle way you impart information." -JK

"Albeit not being in Liz's physical presence my (Telehealth) session with her was still very productive. She was able to analyze my movements and target beneficial exercises to alleviate my pain and symptoms. I was able to follow her instructions and visual examples. It was a productive hour's session and it was great to have real-time contact and dialog with Liz through (a video session)".  -SR

"My online sessions with Liz have been essential for me as I (was temporarily out of town) and couldn't see Liz in person. Most importantly, they are effective! Liz is able to get a really thorough sense of my body positioning as I do exercises and at the same time – I am able to very clearly see her demonstrations. I have found my symptoms improving due to the online physical therapy sessions and it is so valuable to just be able to check in with Liz!" -KE

"Today I had my first "telehealth" session with Liz. Although I miss Liz's excellent on-the-table skills, I found our session both relaxing and empowering. It reminded me that I still have access to my own body, breath, and movement as a source of strength and healing. I will definitely continue to turn to Liz as a resource in these difficult times." -ES

"Liz has guided me through a complete retraining of innumerable aspects of my body's motion and coordination over the past year and a half. She always has the perfect, simple exercise to share that has helped me recover hand, shoulder, leg, and core function. This has been no less true through her remote appointment today. Even though there was obviously no tissue work, we covered a number of helpful strategies, and her expert eyes were able to see my form using my computer camera as we went through exercises to check my progress. We even covered some simple self-massage strategies that I'm eager to try. Her cheer and encouragement were particularly valuable during this challenging time!" -NG

"I would like to recommend the telehealth session with Liz of Body Temple which we did via (easy-to-use software). We were able to see and hear each other quite well via my computer even when moving around the room. We didn't have the hands on massage but we were able to go through a whole range of exercises and stretches where I could see Liz's example and she could see what I was doing and offer comments on ways to improve it. They were extremely helpful in dealing with various muscular-skeletal issues and many were things that could be incorporated into my exercise sessions at home. It not only helped me physically but improved my psychological mood as well. I think this is an excellent way to keep on with physical therapy during the home quarantine period."    RJ
Join them, you might just feel better afterwards!
 True Healer
"I went to see my very gifted physical therapist friend Liz Gillem Duncanson at Body Temple Physical Therapy and Yoga for a treatment on Tuesday for my piriformis syndrome. What I received was a full body, mind, spirit healing. My mind was blown by her knowledge and perception. The work we did was deep on many levels. Physically, my body felt more fluid than it had in a very long time. It brought an awareness to my practice that I was missing. Spiritually, it released some serious junk that was stuck in my sacral chakra. Last night I had a dream I was standing in a beautiful empty copper room. The walls, the floor, the ceiling – all beautiful, shining copper. I looked up the meaning and found this: To see copper in your dream represents the power of healing. It also indicates a flow of ideas, your connection to a situation to others, and flow of information. This woman is a true healer and I'm heading back for more. I highly recommend getting your asanas in there!"
-Melissa Cordova, Yoga Teacher
Fixed my plantar fasciitis
Liz helped me do some rehab after tendinitis / plantar fasciitis. She saw instantly what was causing the problem, helped me work on it, and gave me some homework that cleared it up very quickly. She's excellent, competent, smart, and easy to get along with. Highly recommended!
-Brook P. Client since July 2014
 Grateful
I went to Liz twice over the last weeks for a very sore hand and a painful hip. She was able to help me for both! I never cease to be amazed at the depth of her expertise. She knows the body so incredibly well I am her patient for life!
-Ellen K. Client since 2010
Happy Client
My experience with Liz is vastly different than all past PT experiences. She got me to begin strengthening my core before spinal fusion surgery and gave me peace of mind about what I would be experiencing post-surgery. Once I was ready to resume therapy, Liz designed an exercise plan for ME and where my body was at each visit. Her knowledge of wound care, yoga and athletic training makes me feel cared for and seen in a way I haven't before. I feel so lucky to have found Liz!
-Susan M. Client since April 2014
Wellness Worth the WAIT!!!
I've been to see Liz for Therapeutic PT and body work as well as Yoga classes — they are all fantastic! Liz's mastery of anatomy combined with her intuitive approach, and application of Ayurvedic principles make her body work sessions very effective. Her application of these elements in the Yoga class all her to uniquel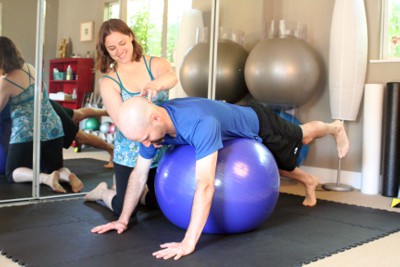 y tailor all poses to the level of everyone in class. Getting an appointment for body work may take a little time but it is well worth the wait.
-A.R. Client since June 2011
Happy with my choice
I had problems following a total knee replacement. Not with the new knee, but with the "good" one. Things were out of balance (right leg, hip and low back) as a result of compensations over the years. I am a retired lawyer and have a keen appreciation for quality professional services. Liz gets right down to it. Her assessments are accurate. She uses various modalities to get the job done. I am much better off because I went to her. I recommend her without reservation.
-John S. Client since November 2013
Liz is a lifesaver
I have had severe chronic pain for over 14 years. I have been going to physical therapy for over 10 years but no PT was able to help me successfully. It was not until Liz began working with me, showing me how to breathe properly, using whole body techniques to completely transform the way I operate, that I saw there was hope. I have gotten at least 50% better and know that there is a life for me in the future. I love her compassion, professionalism, joy and AMAZING BODYWORK.
-J.S. Client since September 2012
The Best
Liz is the best. She knows her science and she understands how the body works. More than that she has a gift for healing. She brought me back to total functionality when doctors, chiropractors and acupuncture could not. She is the best.
-Bob B Client since June 2011